~Along Life's Path~
******************************


When you think you have nothing left to live for
And have sat crying for almost an eternity
That your tears are choking you
Raise your eyes to the Creator
And know he is watching
I have learned so many lessons along life's path
That when one love is lost another comes along
When I lost my husband, I swore I would never put
My heart and soul out there again to be torn off
I just was not good enough for anybody
He had made sure to let me know that
I was ugly and wasn't worth a whole lot
But I stuck out my marriage to death
It was my dream and hope that someday
The Creator would find the right man
Someone who would accept me the way I am
In the package I come in
Someone who might love me
But who would be a friend and companion
And if it was possible would be a lover as well
But I knew that was asking too much
Someone who I had something in common with
And enjoyed the same things that I did
But I knew I was asking for something that was almost impossible
There was nobody for me, I just wasn't worth it
I would never have anyone who would care about me again
Except my family and friends
Nobody to wrap his arms around me, pull me close
Kiss me and really care
I cried till it hurt
Then one day the impossible happened
The Spirits of my Ancestors showed me a vision of a man
A man that is somewhere out there for me
My response was oh sure
But to my surprise and utter amazement
The Spirits have assured me that chance
My reaction is you're kidding
Am I worth him?
He will be everything that I have hoped for
Will I be able to tell him how I feel?
Will he understand, will his soul accept that?
And I dare not tell him, for fear of losing him
I dare not tell him of how deeply I feel for him
I have been told that things like that scare men
When I find him, will he be able to tell me how he feels?
Can I tell him these things?
But I would give anything to be able to tell him
I would live for him and I would die for him
I would walk any road with him, hand in hand
To wherever he wanted to go
I would stand beside him
I would never break his heart
I would never let him down
What have I done to deserve him?
He will be my everything
I would be lost without him
I want to be wherever he is
I don't care about him because of what he has or doesn't have
Or what he can give me or can't give me
As long as I could have him as part of my life
That's all that matters
Life is too short to worry about petty things
As long as you have love in the one you love
That's all that should matter
That is what you live on and that is what goes with you
His arms will hold me tight
His eyes will light up my world
His smile will bring tears to my heart
His voice will send my soul into orbit
My only hope is that one day he may discover
The mark I have left on his heart and soul
And believe that it is meant to be


Live simply. Love generously.
Care deeply , Speak kindly.
Leave the rest to the Creator.
Druid saying

"Life is not measured by the number of breaths we take,
but by the moments that take our breath away."




**Realm of the White Wolf Links**





**ROTWW Site Poetry Links**



**ROTWW Mind's Journey Links**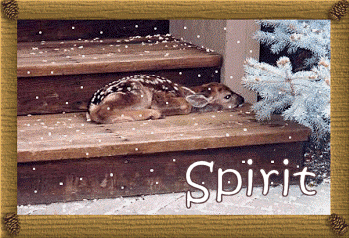 Realm of the White Wolf is Owned by Spirit©1994
Webset created by Spirit@2003
Created exclusively for ROTWW
No other use is authorized.